Sometimes I wish I wasn't so cheap concerned with being a good steward of our money.  Like when we were waiting to get into the fair 5 minutes before the dollar day price ended.
We dropped my parents off near the fair then Brent and I had gone to find free parking.  The closest spot we could find was about a mile and a half away.  By the time we reached the gates it was 2:50 and the dollar admission ended at 3 pm which would be fine if half of Ventura county wasn't trying to get in for a buck.  Brent who is normally content to be somewhat passive managed to push us through to the ticket booth in the nick of time.  2:58.  Yay Brent.
I love the fair.  I love the smells.  Yes, I like the smell of farm animals.  I love watching the people the fair brings out of the cracks.  (Certainly not the Trader Joe's crowd.)  I love that they have booths devoted soley to serious animal shirts.  I love watching my kids on the rides even though I'm praying that the ride holds itself together.  I love listening to carnies try to sell their games.  But most of all I love the goats.  Even though they chew my dress and eat my hat.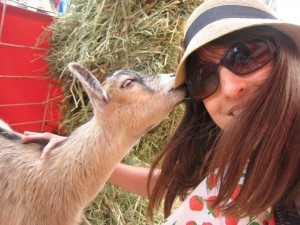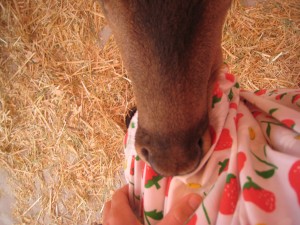 Every time I go I talk to breeders and get emails and numbers hoping one day I will actually find myself the owner of the world's greatest pet.  (There is a lady in Camarillo who is selling brother and sister Pygmies and a young blue-eyed Nigerian Dwarf doe.  I will happily accept late birthday presents.)
This year Older Brother  and Younger Brother were getting along particularly well.  It's interesting to note that since they quit going to school we've noticed a dramatic improvement in their behavior.  We are spending more time actually watching/listening to them play instead of being referees.  Hallelujah.  At the fair, Older Brother, wanted to make sure Younger Brother didn't get lost so he held his hand most of the day.  These are my favorite pictures of the bunch.   (You may have already seen them on Flickr)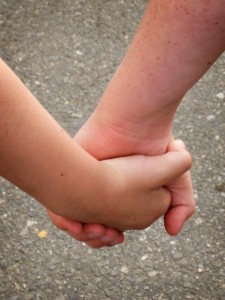 Big Brother hates, yes HATES, rides that spin, flip, jerk, or go faster than .5 miles per hour.  I thought I was going to lose my life after I convinced him to ride this.  It goes up and around fast…sort of.
Younger Brother, however, believes the faster the higher to better.  I can just see the future.  Can someone get me a Xanax please?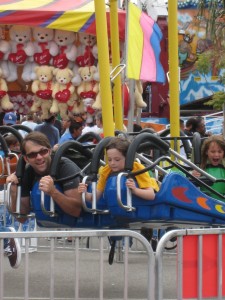 Here are a few more pictures because…well….fairs are fun.
We had our first official day homeschooling yesterday.  It was great!   I would have blogged about that but this post has been sitting in my drafts for well over two weeks.
xoxo
j