Date Nights
Author: Jennincat
26 Jul
With the boys this weekend.  Let's be real, this is really more about a date night with daddy than with mommy.  Friday night Brent and Noah went to Hometown Buffet to use Noah's 'free buffet" coupon that he got for reading at school.  Nathanael sweet talked me into going thru the Taco Bell Drive thru.  Then we sat at the breakfast nook and he had a million wonderful questions until Noah came home singing about the dessert bar at Hometown Buffet.  Meltdown.
Saturday was Nathanael's night with daddy.  I had a buy one get one free coupon for TGIFridays so they went there but not until after the great debate on China Palace vs. Mike's.  (Nathanael said we were being cheap since we mentioned Mike's….um…yeah we are.)   I guess TGIFridays was a good choice after all because Nathanael came home wildly excited about the sliders describing them in great detail.  Noah really wanted to go to Taco Bell with me but I had a coupon for a free burrito from a small hole in the wall place so we decided to try something new.  He was excited because it was called "Santa Cruz" and he thought it was hilarious to keep saying that we were on our way to the island.  (The Channel Islands are right off the coast of Ventura.)  Once we got there it was closed.  Good thing McDonald's was near.  Since the back seats were down in the back of the van we had a "pic-nic" in the Target parking lot.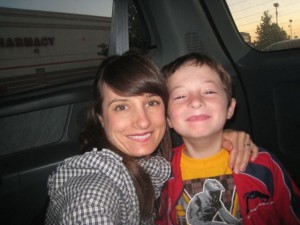 He thought it was great fun.  I was just happy no one could see me inhaling my Filet-O-Fish.  Oh yes!
We went into Target to look for coasters.  We didn't find any but I did find a set of Corelle dishes for 50% off.  We've needed new dishes for a couple of years.  That is if 10 year old dishes with rust spots all over the edges constitutes "need".  Since when did ceramic rust???  I've been searching the internet just to make sure I got a good deal and I can't find a set nearly this pretty for less than $50 and I paid $35.  Of course, if you want to show me up then send me the link b/c I'm always game for saving more!!!  Anyway these are the dishes I got but I'm not sure if I'm going to keep them.


What do you think???
We also worked on the house a bit this weekend. The bathroom is almost done.  Two years later.  And I put the second coat of paint on two of our walls.  A year later.  My genius husband also hung the curtain rods he made from supplies from Lowes for LES THAN $20!  We saved a bundle since we needed loooooong rods for our front room windows.  I sewed some curtains all by myself without the help of my mom (or Aimee D.)!  They look great from 5  feet way.  Actually we don't like them.  They are too busy with our new super duper awesome chairs.  Say hello to Sunny, aka, Mr. Magnificent.


We are planning to take a trip down to the fabric district in LA sometime soon so I can get some inexpensive fabric. We can't find anything we like here in town and curtains at the store are soooo expensive.   Last visit to the fabric district we really scored with the glittery bright red shag fabric.   What. Were.  We. Thinking?
I also scored again on freecycle and got a free television for our garage. This is so I can test and review (at least that's the idea) workout videos for competingtolose.com which, by the way, is well on it's way to becoming Girl-Heroes.com.  We are also looking forward to trying P90x when it gets here.  😉
Oh yeah.  The other day in the car I asked Nathanael if he thought he would move far away when he grew up?  He said very matter-of-fact without looking up from his game, "I'll live in California but I'll probably live in Beverly Hills or some place like that."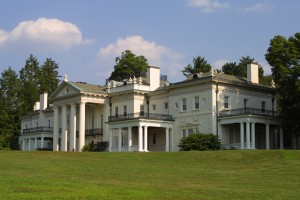 xoxo
jenn